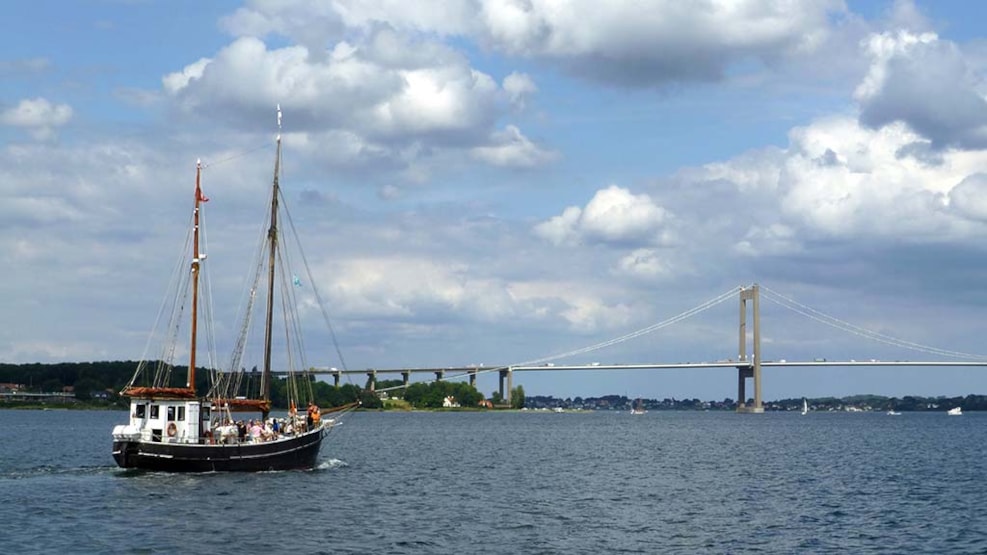 Boat trip - hear about Middelfart's fascinating history on board Aventura
Storytelling at sea with a guided.
Before departing, you will learn about the ship's original use and design, on board safety and the sailing plan.
The themes of the voyage will mainly be: - Middelfart and the ferry crossing - The West and East Lillebælt Bridges
- The porpoise: including the captured porpoise, porpoise hunters and their smacks - Hindsgavl half-island - Fænø and Fænø Kalv
A trip on board the galeas AVENTURA recreates an authentic and atmospheric impression of sailing life, crew working conditions, eel fishing and the eel company "Th. Petersen & Co. Kolding".
Practical information
Own catering or by arrangement. The galley is available free of charge and is equipped with mess gear for 40 people. Please do not bring plastic cutlery/plates and tall wine glasses.
Access for disabled people
With light or heavy wheelchairs, must be agreed in advance.
Meeting point
Middelfart Gl. Havn. (GPS 55° 30´29 N 009° 43'31) Other starting points can be arranged
Duration
By agreement 
Participants 
Max. 40 pers. Summer/ 30 pers. Winter 
Prices
Contact us or VisitMiddelfart on Tel. +45 8832 5959
Info
REMEMBER: Windproof clothing, sturdy footwear, sunscreen and binoculars. If the weather is very rainy, we will cover the deck with the sun sail.