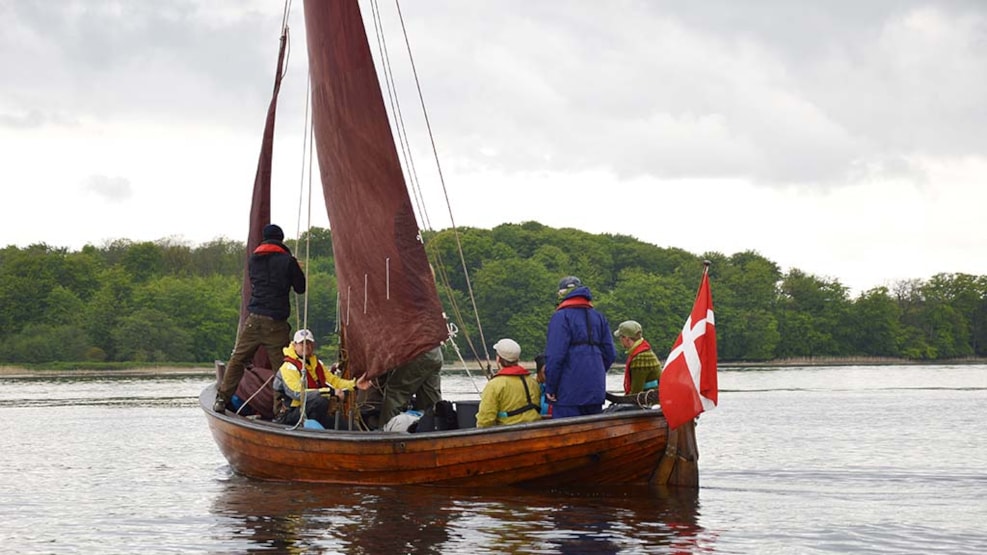 Enjoy the peace and silence - on board a sailboat known locally as Smakkejolle
Middefart's past is closely linked to the hunting of the harbour porpoise in the southern part of the Little Belt. Working together in 10 boats, the whalers would force the porpoises into Gamborg Fjord where they were caught by nets. These small sailboats, which are built a bit like the old Viking ships, were called smakkejoller.
The harbour porpoise is now a protected species, but the boats are still in use and we offer a fantastic trip around the Little Belt and Gamborg Fjord, a beautiful and peaceful setting where today the harbour porpoises play and hunt in safety.
The smakkejolle has been modernised with a small inboard motor that has the wonderful characteristic cutter sound, so we are not entirely dependent on the wind and currents. Sailing this boat affords plenty of opportunity to be an active sailor, which is both fun and educational and brings people together, while there is still space to enjoy the quiet. When we set sail, a wonderful calm descends as we glide through the water.
The Little Belt is beautiful at all times of the day and all year round. If you really want to spoil yourself with an amazing natural experience, we recommend an early morning excursion to experience the Little Belt waking up. This is an amazing experience as the silence of the night ends with the sounds and light of the new day – why not enjoy morning coffee in this beautiful setting?
Generally sailing on the Little Belt is a fantastic opportunity to see the superb scenery and the rich sea life around the Little Belt. We sail around Fænø to Fænøkalv (an uninhabited island) into Gamborg Fjord or anywhere else you like. We can also sail into shore for a picnic. All our trips are enlivened with stories and anecdotes that are both entertaining and amusing. We look forward to welcoming you onboard.
Practical information
Vends Motorik- og Naturskole provides all the necessary equipment to wear and for safety. We also have sailing clothes and warm clothing for everyone (if necessary)
Meeting point
We are Mobile, so it is up to you
Duration
From 1½ hours
Group size
Max. 24 pers. - and there is also space for Duration: From 1½ hours a couple of extras on the safety boat if necessary
Prices from
Contact us or VisitMiddelfart on Tel. +45 8832 5959