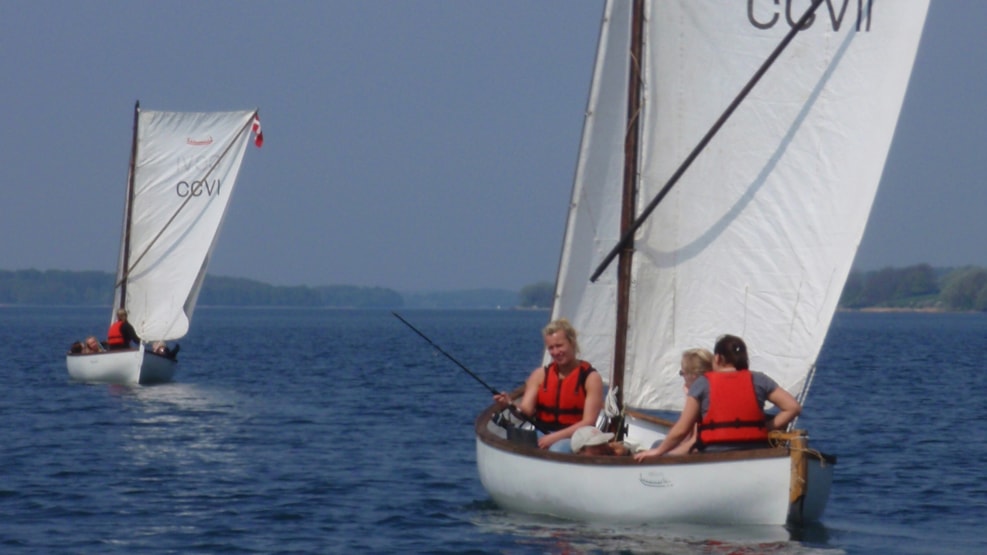 Megin sailing dinghies . a safe sailing experience
To pilot your own boat is a confidence booster and a fantastic experience – particularly when working together with your colleagues. Megin sailing dinghies are a modern version of the old sailing dinghies used by harbour porpoise whalers that were inspired by Viking ships. They are unsinkable, stable and agile and are therefore ideal for beginners. In Megin sailing dinghies, you can safely sail under canvas while getting an insight into both your own and your colleagues sailing abilities.
Before setting sail, instructions are given on safety and how to sail the boat. Then we set sail on an agreed route over the Little Belt. Along the way, it will be possible to land on the beach to go swimming or have a picnic or learn about the local area from your guide.
Sailing Megin sailing dinghies brings people together, strengthening the group's ability to make decisions and work as a team, qualities that can be built upon. In addition, everyone will return with a greater understanding of how to navigate and of decision-making.
Safety
This activity is held with qualified instructors that follow in a high speed safety boat. All the dinghies have radios so instruction and advice can be given from the safety boat while sailing. We adhere to the Danish Maritime Authority's regulations for the area and we only sail when the water temperature is over 10˚C.
This activity can be combined with other activities offered by Vends Motorik- og Naturskole
Practical information
Vends Motorik- og Naturskole provides all the necessary equipment to wear and for safety. We also have sailing clothes and warm clothing for everyone (if necessary)
Meeting point
We are Mobile, so it is up to you
Duration
From 1½ hours
Group size
Max. 24 pers. - and there is also space for Duration: From 1½ hours a couple of extras on the safety boat if necessary
Prices from
Contact us or VisitMiddelfart on Tel. +45 8832 5959