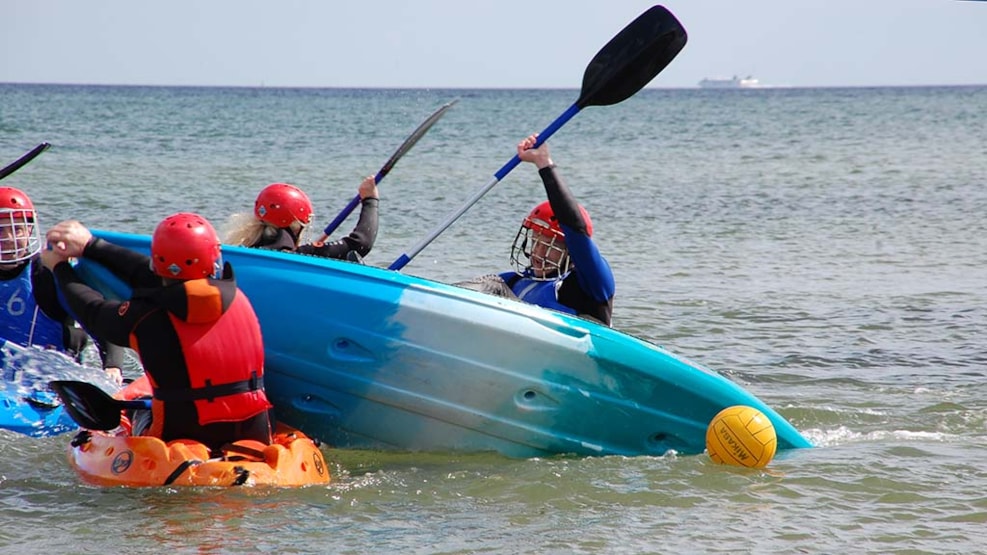 Sit-On-Top kayak - fun for the inexperienced kayaker
The Sit-On-Top kayak is an enjoyable and safe way of learning to kayak. It is a great way to spend a couple of hours on the water whether you want a bit of fun or just want to take a relaxing paddle over the Belt. The sit-on-top kayak have become popular for novice sailors, surfers etc. helping them to feel more comfortable around water and it is also popular activity for example when staying in a summerhouse.
The reason for its popularity is that the sit-on-top kayak is stable, easy to paddle and you can quickly learn to steer the kayak, so no matter your age or experience you will have a great time on the water. The sit-on-top kayak is great fun for playing games,
for example tag, a relay race, or polo, and is great for bringing people together for a memorable entertaining couple of hours combining fitness, coordination and fresh air.
If all you want is a quiet paddle to enjoy the beautiful scenery of the Little Belt, the sit-on-top kayak is ideal. With a few quick instructions, you will be paddling along the coastline enjoying the view.
NB: All activities are under the supervision of experienced, qualified instructors. We only paddle out when the water temperature is over 10˚ C and we adhere to the Danish Maritime Authority's rules for activities at sea.
Practical information
Vends Motorik- og Naturskole provide all the necessary equipment and clothing. You need to bring swimwear (to wear under the wetsuit), a towel, water and whatever else you might need for a day on the beach.
Meeting point
We are Mobile, so it is up to you
Duration
From 1½ hours
Group size
Max. 16 pers.
Prices from
Contact us or VisitMiddelfart on Tel. +45 8832 5959