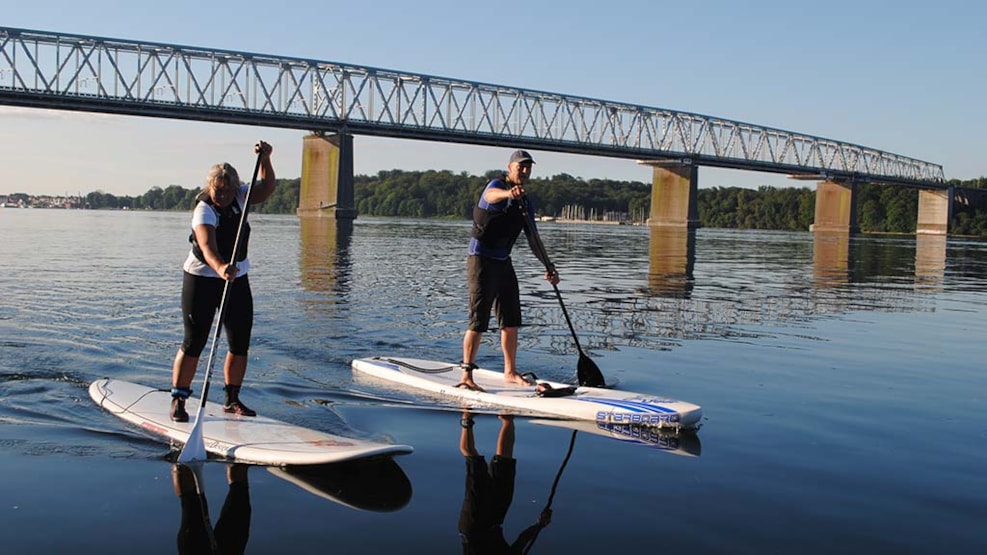 Stand Up Paddling - (SUP)
SUP boarding is a unique opportunity to combine a fun water sport activity with balance, exercise and a fantastic experience in beautiful surroundings. SUP boarding is great fun no matter your mood: whether you just want a fun day on the beach or are in need of a workout on the water or if you just want a quiet trip to enjoy the scenery and wildlife, the SUP is an extraordinary way of viewing the Little Belt from the water.
Because the group sizes are small and the duration of the continuous activity is relatively long this SUP course is more intensive. You are in safe hands with the instructor who has more time to focus on the individual.
SUP boarding has many benefits: it helps improve your confidence, gives you a good workout and plenty of revitalizing fresh air. The contented feeling after a satisfying day on the water in a beautiful setting is wonderfully refreshing and contagious.
Try a concentrated SUPer experience on the water!
Practical information
Vends Motorik- og Naturskole provide all the necessary equipment. Activities at Vends Motorik- og Naturskole are at your own risk. In the unlikely event that there is an accident, it will have to be covered by you own insurance.
Meeting point
We are Mobile, so it is up to you
Duration
From 2 hours
Group size
Max. 4 pers.
Prices from
Contact us or VisitMiddelfart on Tel. +45 8832 5959