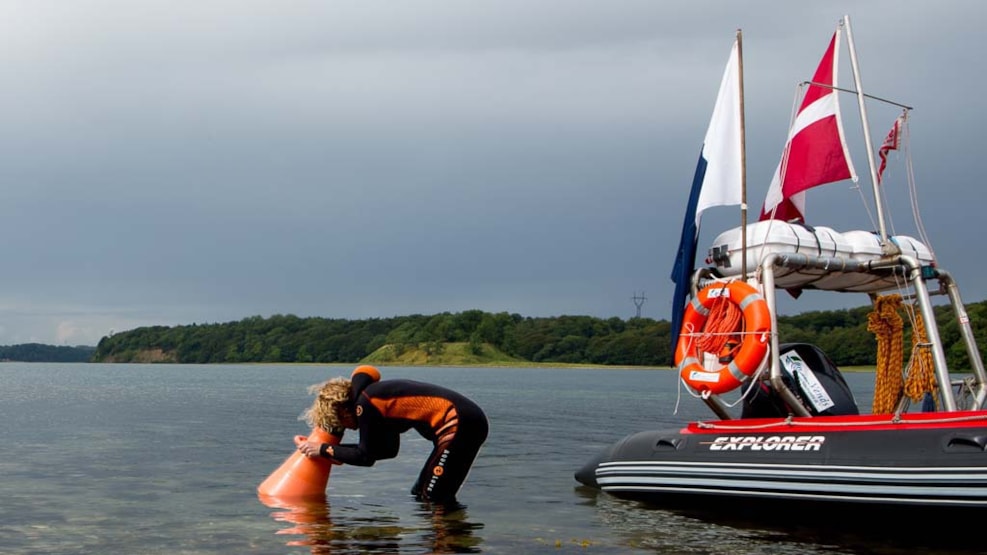 WaterRover tour
Like a Land Rover can offer its passengers an exciting drive across country, a RIB boat gives you a fantastic experience on the water – therefore we call our tour in our RIB boat, WaterRover tour.
We have a fast RIB boat (a modern inflatable boat with a fixed bottom and small outboard motor) which gives you the opportunity to get out on the Little Belt. Here you often meet harbour porpoises, seals are regular visitors and seabirds are on their own stamping ground.
This trip can easily be combined with other activities offered by the Vends Motorik- og Naturskole, for example sea life in the shallows or snorkeling. You can sail into shore and investigate life in the shallows with a net or snorkel.
Generally, sailing on the Little Belt is a fantastic opportunity to see the superb scenery and the rich sea life around the Little Belt. We sail around Fænø to Fænøkalv (an uninhabited island) into Gamborg Fjord or anywhere else you like. We can also sail into shore for a picnic. All our trips are enlivened with stories and anecdotes that are both entertaining and amusing. We look forward to welcoming you onboard.
NB: we only sail when the water temperature is above 10˚C. Our RIB boats are equipped for passengers and we adhere to the Danish Maritime Authority's regulations for the area.
Practical information
Vends Motorik- og Naturskole provides all the necessary equipment to wear and for safety. We also have sailing clothes and warm clothing for everyone (if necessary)
Meeting point
We are Mobile, so it is up to you
Duration
From 1½ hours
Group size
Max. 11 pers.
Prices from
Contact us or VisitMiddelfart on Tel. +45 8832 5959