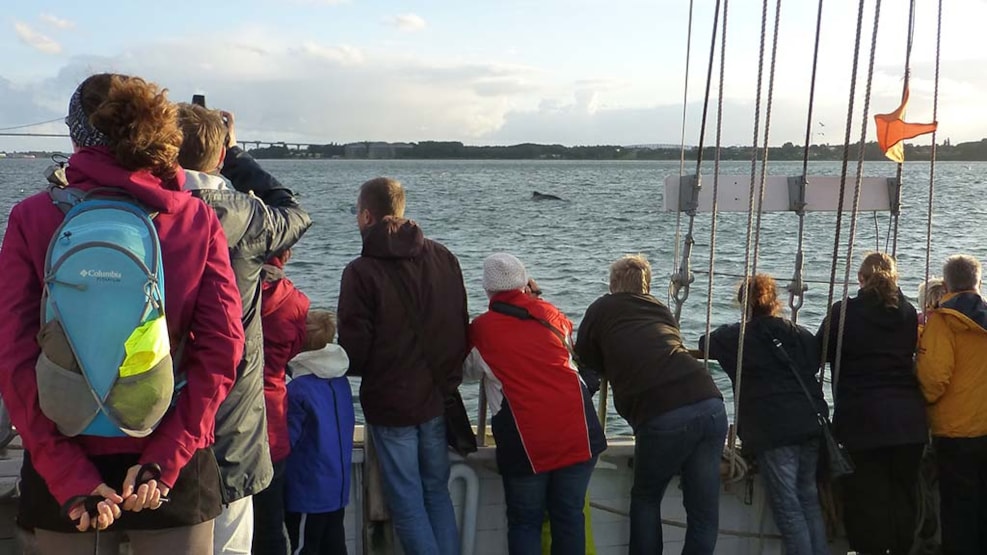 Whale Watching – with guaranteed whale sightings!
Why not give yourself a fantastic world-class experience?
Whale safaris are not restricted to countries in the far north or places that are more exotic further south. Here in Denmark, you can meet one of the world's smallest whales, the harbour porpoise, that lives and breeds in the waters around Denmark. In fact, the Little Belt has, at times, one of the world's most concentrated whale populations. Due to these large numbers in the Little Belt, Middelfart's past has been closely linked to the whales that for hundreds of years were hunted for profit. Today the harbour porpoise is a protected species and numbers have significantly increased, and they continue to thrive in the local waters.
On Galeasen Aventura you can get quite a close look at the small whales in their natural habitat as they hunt food in the strong currents around Middelfart.
There are underwater microphones so that we can listen to the clicking sound the porpoises make in the water. You will learn more about porpoises and about whalers and whaling in the past. Refreshments can also be included in your trip with prior arrangement.
Come aboard Galeasen Aventura and enjoy an amazing trip where the skipper guarantees that you will meet these fascinating small whales.
Practical information
Own catering or by arrangement. The galley is available free of charge and is equipped with mess gear for 40 people. Please do not bring plastic cutlery/plates
and tall wine glasses.
Access for disabled people
With light or heavy wheelchairs, must be agreed in advance.
Meeting point
Middelfart Gl. Havn (GPS 55° 30´29 N 009° 43'31)
Other starting points can be arranged
Duration
3 hours
Group size
Max. 40 pers. summer / 30 pers. winter
Info 
REMEMBER: Windproof clothing, sturdy footwear, sunscreen and binoculars. If the weather is very rainy, we will cover the deck with the sun sail.
Prices from
Contact us or VisitMiddelfart on Tel. +45 8832 5959