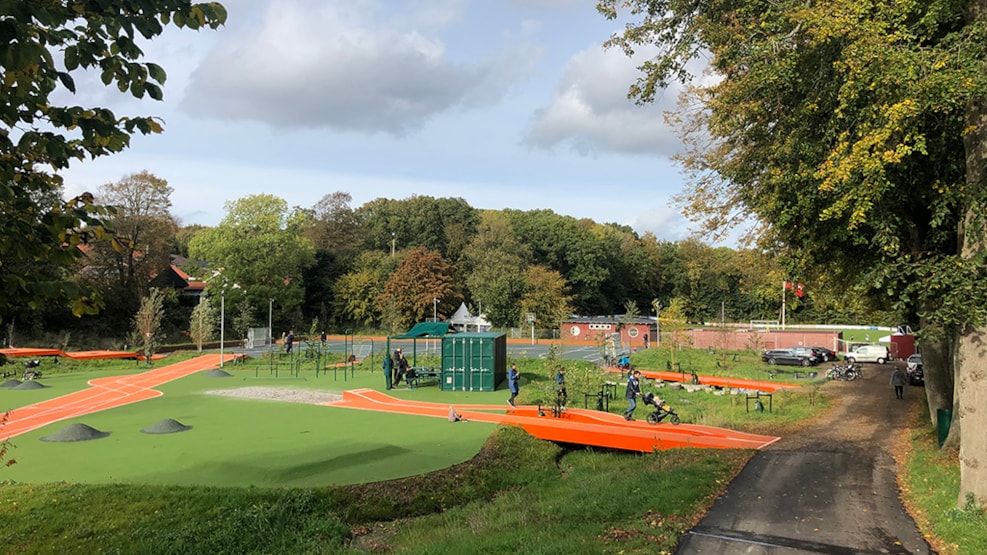 Activity forest in Middelfart
At the activity square it will become like being in a lush oasis when it rains. Several waterways meet and gather into a larger creek and in small lakes, where the rainwater from "Skovkvarteret" can be collected and seep down during major cloudbursts. In a cloudburst situation, excess rainwater will be directed to the "Postens Rende".

Between lakes and streams there will be platforms for ball games, play and movement. Every place is framed by trees to create clearances. The individual clearances are connected by several types of bridges - jumping bridge, hanging bridge, running bridge all made in natural materials. However, it will still be possible to get around the area on trails that wind between the clearings and the lowlands with water. There will also be a clearance with a playground for the city's youngest.
The activity forest has an important role in diverting water from "Skovkvarteret".
The rainwater from the surrounding area should run down into the Activity Forest and collect in the lowlands where it will seep down. These wet and dry areas will provide a unique learning environment as well as opportunities for movement.
When the Activity Forest is completed, it becomes an area with many opportunities for play, movement and learning for children, young people and the elderly.