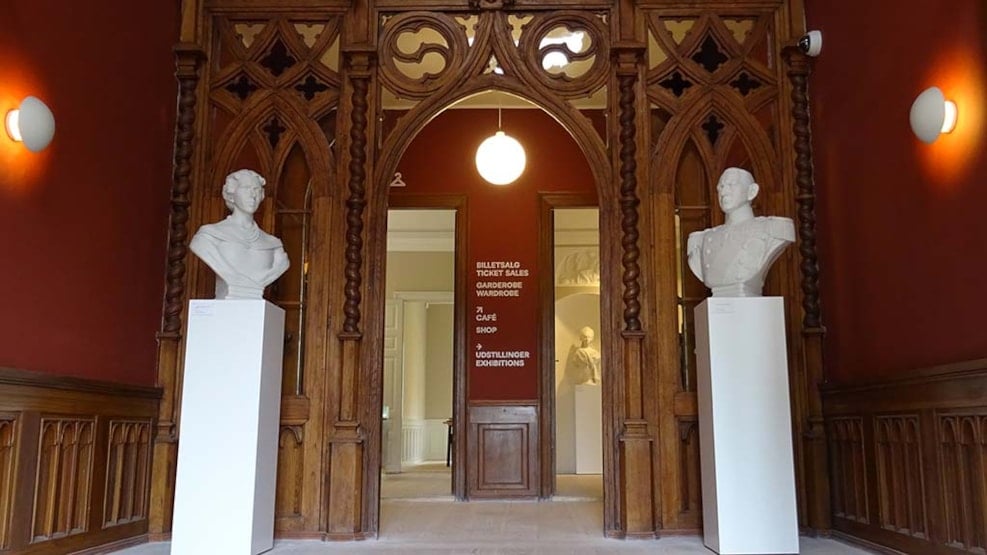 CLAY – an architectural pearl
When you arrive at CLAY Museum of Ceramic Art Denmark, you will notice two very different buildings; the traditional main building (Grimmerhus) and the under/over-ground extension, towards Lillbælt.
Grimmerhus
Grimmerhus was originally built as a pensioner's house for Hindsgavl Castle (1856-57), which is located at Hindsgavl Peninsula a few kilometres away. Among other things, Grimmerhus served as a boarding house run by Inga Jørgensen. Today you can find furniture and traditional cakes from Inga Jørgensen in Middelfart Museum's Café Inga.
Grimmerhus was designed by Johan Daniel Herholdt, who also designed the University Library and the National Bank. The original Grimmerhus building was inspired by Italian villas from the 1500s. Johan Daniel Herholdt is also behind the home of the queen of modern Danish theatre, Johanne Loise Heiberg.
As Grimmerhus is a listed building in a conservation forest area, it posed great architectural demands when CLAY Museum of Ceramic Art Denmark (which is today housed in Grimmerhus) had to be expanded to make room for a large donation from Royal Scandinavia A/S.
The choice fell on the firm Kjaer & Richter A/S, who works with the architect Niels Frithiof Truelsen, Wad Landscape Architects and Henry Jensen A/S Consulting Engineers. To respect Grimmerhus' listed status, a solution was chosen where the museum's extension was half underground.
The new extension
Both the under- and above-ground parts have large glass windows overlooking the Lillebælt. The "above-ground" pavilion is covered with reversible, hand-made bricks from Petersen Tegl A/S, which act as lamellae that can let the light in or out as necessary.
In addition to special exhibitions and a selection of the Royal Scandinavia collection, the extension also includes a large, light room with great acoustics.
In May 2015, the extension and the renovated Grimmerhus were renamed CLAY Museum of Ceramic Art Denmark, and inaugurated by HRH Queen Margrethe.