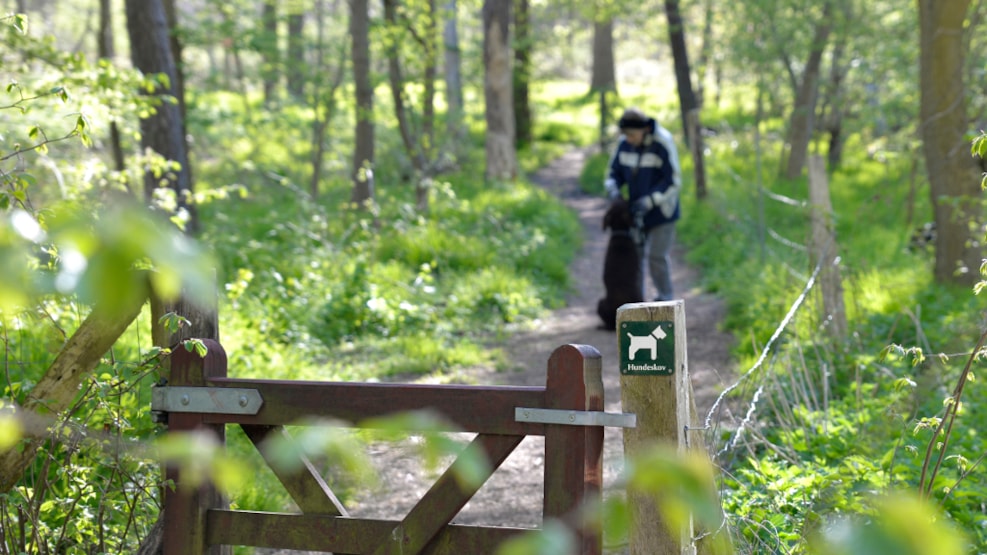 Dog Park - Staurby forest
Dogtraining and fun play in Staurby Forest
Welcome to the dog park created in cooperation between Middelfart municipality and local associations. Placed in the eastern part of Staurby Forest, the dog park covers an area of approx. 5,7 acres and is enclosed by 1.13 km of fence. 
The area is equipped with a large puppy farm, tables, benches and garbage cans. Facilities are maintained by local dogtraining-associations, which in turn are allowed to use the forest for training. Every tuesday during 16:00 to sundown from April 1st to September 30th, the dog park is closed for training sessions. 
Easy access all over the forest
Staurby Forest is a location with both trekking- and MTB tracks where the terrain is challenging, but the dog park is easily accessible. Parking is an option by Strib Landevej (link to the right), and along Staurbyskovvej, and walking paths inside the dogpark are handicap-friendly. 
The 4-legged friends have a spectacular playground in the dog park. The great length of the park and many hiding places make an attractive activity spot for the dogs, and a great dog training area for dog handlers and police-dog associations.
While visiting the dog park, following rules apply:
The dog park is for everyone; show consideration for eachother and nature
Parking only within designated areas
Dogs are allowed to run free without leash, provided they're under control
Bring water for dogs from home
Make sure to clean up
Remember to close the gates