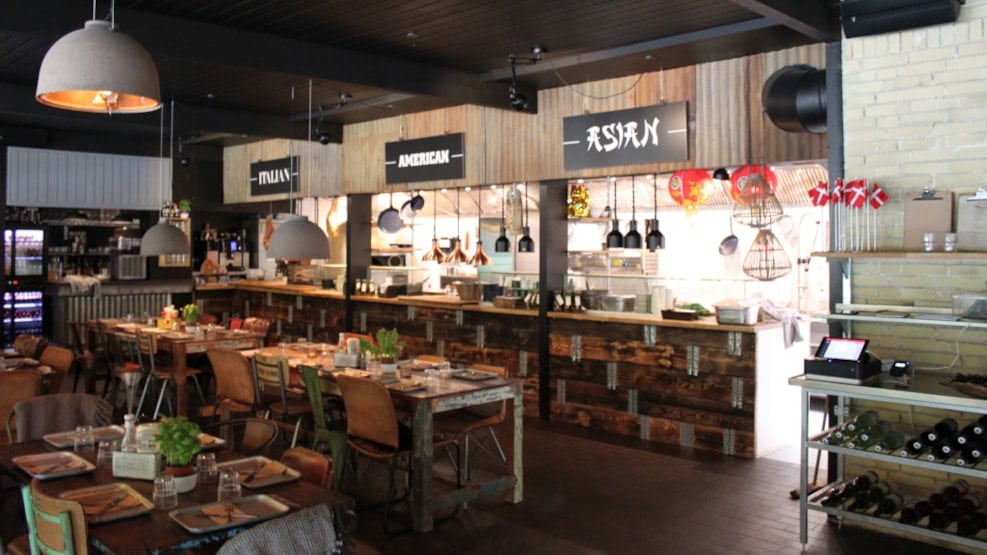 Kitzchen food court
FOOD COURT (Indoors)
The restaurant is designed as a Food Court with three world kitchens in the starring roles: Italian, American and Asian. We've designed the interior to make the table seating as cosy and sociable as possible, enabling you to watch the food preparation, which is served in small taster portions. You fill your own plate, freely choosing from our numerous freshly made dishes, which have all been prepared with optimal taste and quality ingredients. We have space for approx. 100 guests.
STREET FOOD (Outdoors)
Kitzchen Street food offers a cosy setting, with its raw and relaxed 300 m2 outdoor area designed to create great experiences with family and friends. We serve world-class burgers and duck-fat french fries in an unpretentious and relaxed way. "The scene is set." Drop by and hang out under the coloured lights with some cool lounge beats in the background and enjoy the friendly and relaxed atmosphere.
ICE CREAM BAR (Outdoors)
We're extremely proud of our ice cream. The milk is collected in 20-litre buckets, we use real fresh fruit, the chocolate is genuine Callebaut and the vanilla is genuine Bourbon. We could talk about our 16 different flavours for hours on end. We don't hold ourselves back when it comes to making old-fashioned ice cream cones in buttered vanilla cones with a homemade sugary topping, which we've enhanced with crushed nougat crunch and finished with roasted topping. Our soft ice is also specially developed exclusively for Kitzchen: No E numbers, just plenty of cream, milk and vanilla. In addition to ice cream, we also serve freshly ground coffee and delicious milkshakes. There might be a long queue at times, but we guarantee it's well worth the wait.