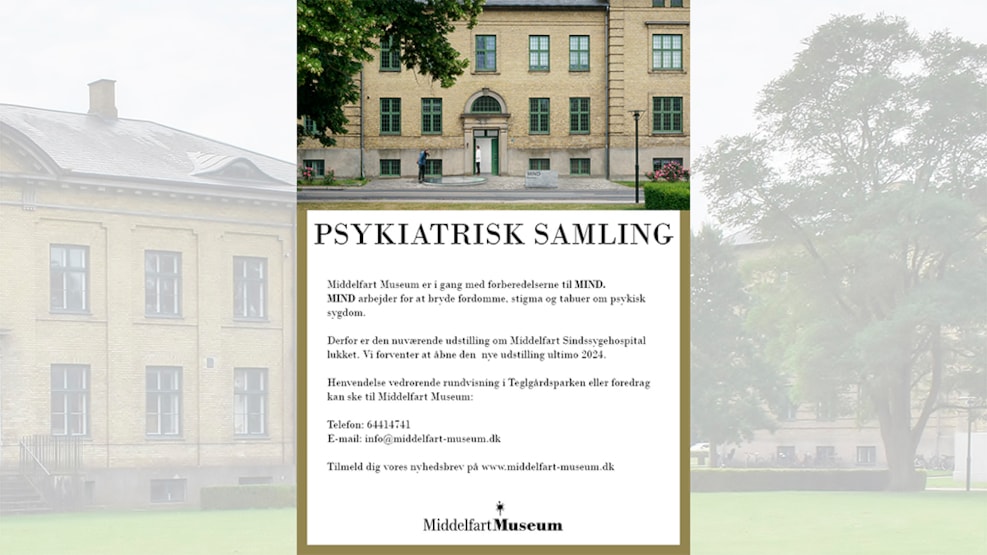 The psychiatric hospital - step back in time in Middelfart's old psychiatric hospital
Psychiatric Collection - temporarily closed
New exhibition opens end of 2024.
You can almost feel the stories leaping out at you while standing in the park surrounded by the psychiatric hospital's buildings, which was to all intents and purposes a small town in itself. Find out why this large hospital was built in Middelfart in 1888, how the psychiatric patients were seen here, and how they were treated here over the years (1888 - 1999).
At one time, the famous painter P.S. Krøjer was a patient here. There are sound effects in the old hospital, which helps to give a unique authentic fee to the place and insight into life as a patient back then.
There is a small café in the museum where we serve coffee (DKK 15,-) and cookies (DKK 25,-).
Practical information
Practical clothing according to the weather
Meeting point
Teglgårdsparken 17
Duration
1½-2 hours
Group size:
Max. 25 pers./group. An extra guide for groups with over 25 people costs  double.
Prices
Weekdays: 8.00-16.00, DKK 400 /Evenings after 16.00: DKK 800 /Weekends: DKK 1.000
Admission: DKK 35,- per pers.