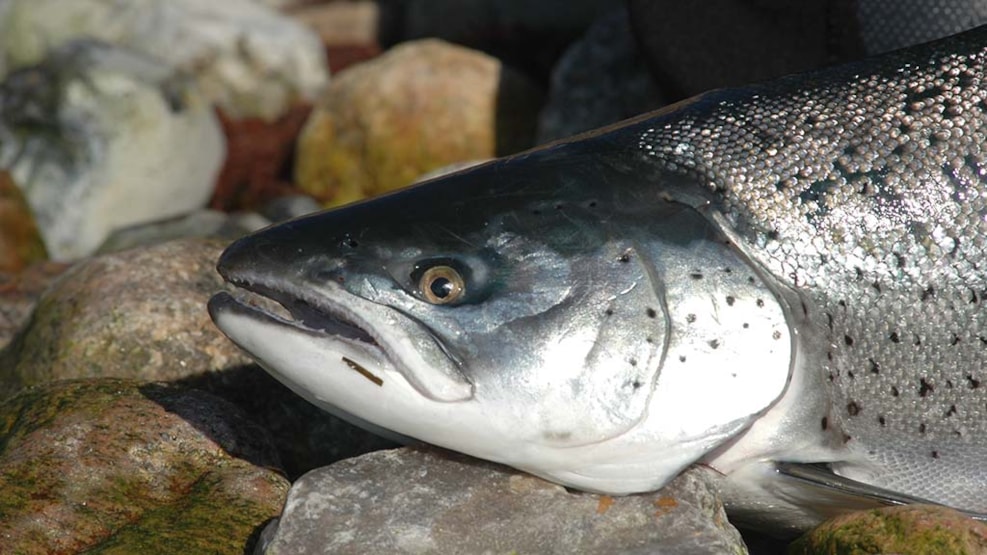 Sea trout
The day you catch your first large, healthy silver sea trout off the coast, is a day you will never forget! Sea trout hatch in freshwater, where they remain for about two years. The fish then swim to the sea where they grow from 20-25 cm to 40-50 cm in 1-2 years. After 1-3 years in salt water, in summer and autumn, the sea trout return to their river or brook of birth to spawn. Some individuals remain in salt water. These fish are called "Greenlanders". After spawning, the remainder migrate in December and January back to the sea. However, not all fish survive spawning. In the period from April to June, almost all the mature fish gather along the coast.
Most sea trout weigh 1-1.5 kg. A fish weighing 4-5 kg is a trophy fish. You have to be lucky and a proficient angler to hook and, not least, reel in a fish of this size. The deep waters of Lillebælt, where currents are strong, attract shoals of herring, sprat and sand lances, bringing porpoise and very large sea trout in their wake.
Spin fishing
Spin fishing is a particularly effective fishing method to use on long stretches of coastline in early spring, March and April. The fish are often attracted more to colourful lures and wobblers than to live fish. Less colourful lures often work best. Use the smallest lures in calm, clear weather and on flat stretches of water. Large lures and wobblers can be used in heavier weather and in waves. Silver/green and silver/blue are often used in the spring, while silver/red/orange or copper/red/orange lures often catch fish in the autumn. Bright white lures attract fish all year round. They are often particularly good to use in winter with small, highly coloured bait, typically fluorescent orange, red or pink. There is an exception to every rule. If your fellow fisherman are not catching anything with e.g. silver lures, try something different. Some use them, some do not. A tippet fly tied to a leader 30-40 cm ahead of the lure will often be rewarding. If used correctly, using a tippet fly will almost double your catches, measured over a full year. Some days the tippet fly catches the vast majority of the fish, while the lure is unsurpassed at other times.
You can fish for sea trout anywhere you like. This guide lists some of the best places, and plenty of fish are caught at all of these every year. The typical technique used to fish sea trout is to cast and reel in. Wade a few metres and then cast and reel in. Be mobile. Cover some water. If you get a bite, stay in the area. There will often be more fish in the same spot. Sea trout swim parallel with the coast so you need to move to find them. Vary how you reel in so that the lure spins both rapidly and slowly. Reel more slowly in the winter, And faster in the summer. There is an exception to every rule. The only hard and fast rule is that it is either the lure or the fly in the water that attracts the fish.
Fly fishing
You must be able to cast at least 18-20 metres, preferably further. If you can, you are off to a good start. Reel the line in 20-40 cm at a time. Pause. Reel the line in. Pause, etc. Sometimes allow the fly to move fast. Hold the rod under your arm and reel the line in fast. Experiment and vary your reeling. It is important to move and fish along the coast. You can fly fish all year round but the technique is particularly effective in summer, autumn and winter. Different flies, especially sand-coloured shrimp flies are good but you should also bring a couple of black, white or brightly coloured flies. A pink fly (known in Danish as "Pattegris" (piglet)) has become a modern classic in just a few short years, while other flies, such as Kobberbassen, Magnus, Red Tag Palmer, Flash 9 and Honey Shrimp, catch loads of sea trout too. A fly called Glimmerreje (sparkling shrimp) is a sure thing to use in early spring.
Fishing with a BULDO® float/Bombarda float
Use a spin rod. Tie a BULDO® float or a Bombarda float to the line. About 3-4 metres from the float, tie a fly on a nylon or fluorocarbon line (0.25 mm). Cast your line. Tighten the line. Reel in one full turn of the wheel. Count to 3. Reel in one full turn of the wheel. Count to 5, etc. Sometimes you will have to reel in more quickly and at other times the fish prefer a slow and even reel-in. f you have yet to catch your first sea trout, BULDO® float/Bombarda float fishing is probably the fastest way to bag your first sea trout. If you find that sea trout that are not biting, try putting a fillet of herring, a couple of juicy worms or a fresh shrimp on the hook instead of the fly.