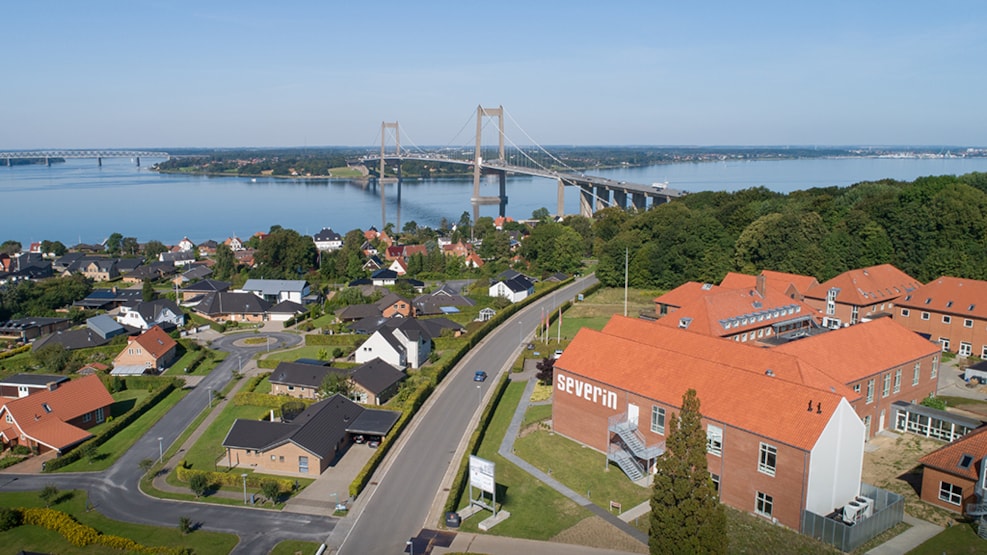 Green Experience
Severin
Severin guarantees a lovely, relaxing atmosphere that makes guests feel comfortable and at home. The stunning view of the Lillbælt Bridge is just one of the reasons why our guests return to us over and over again. Being a course and conference hotel means we can offer a total of 14 teaching rooms with capacity for between 15 and 200 participants, 15 group rooms and 76 rooms. Whether you're planning on holding a course, conference, party or something else, Severin can customise a quote to fit your exact needs.
Severin underwent a major refurbishment in 2013 and 2014, which means the building has now been 100% renovated from top to toe. The renovation has given Severin a new, lighter appearance with floors in light ash and most of the furniture crafted in light wood. The refurbishment also includes some classics as Severin feels it is important to share some of its history with its visitors. We are proud to be a part of the cooperative movement. We would very much like to continue being associated with these values, and we have used FDB furniture and other recognizable items from the cooperative history in our choice of furnishings. Some of the carpets feature a woven design with the Circle Coffee girl, just as the rocking chairs follow FDB drawings and await weary souls in the reception lounge area. The walls in the lounge area feature historical FDB pictures, and the rooms are furnished with FDB posters and FDB chairs.
The restaurant offers delicious food that is suitable for courses, conferences, parties and private overnight guests. Severin uses only the best ingredients when composing delicious menus for you, and all food is made with respect for animal welfare and consideration for ecological values.