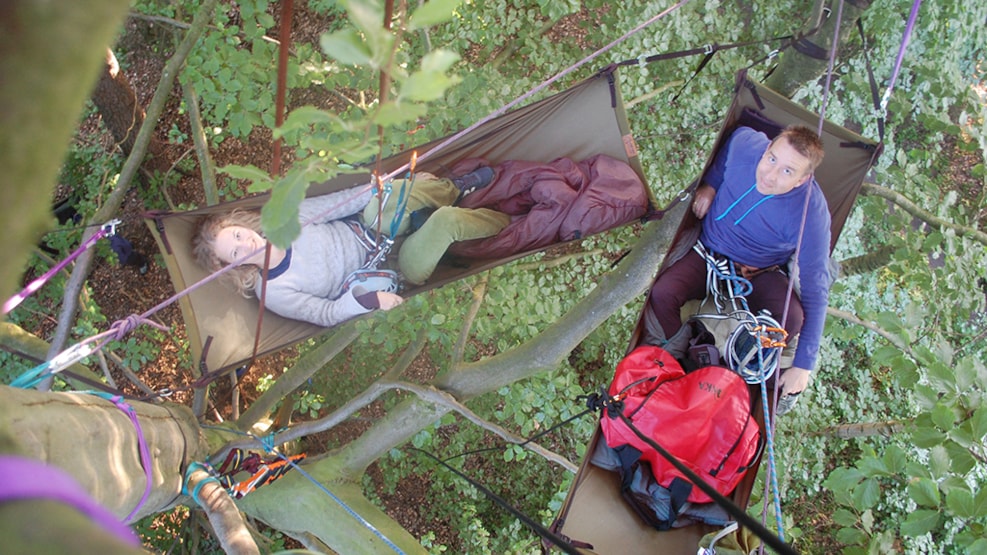 Tree-top Sleep-over
www.klatretræ.dk
Sleep tight in the four poster bed of Mother Nature

Hotels, hostels and camping are too ordinary. At the Hindsgavl peninsula at Middelfart, you and your entire family can spend the night in a hammock up in a 10 metres high beech tree.

Spending the night up in a tree is an activity for those who like experiences out of the ordinary. Here is the opportunity to get close to life in the forest during the quiet hours. To experience the whisper of wind in the trees, the smell of the forest and the soft movement of the hammock are just a few of the many sensations, which awaits you in the treetops
The beds in the trees are comfortable hammocks. To ensure no falling out of the hammocks during your sleep, a security line is fastened at the person sleeping, to ensure a safe night. Moreover, the hammock can be covered with a tent or mosquito net.
You have a breath-taking view from the treetops and get very close to the birds and other animals of the forest during the early morning hours. The birds sit right next to you on branches and larger animals move around beneath you. They are not aware of humans up in the trees.

Tree climbing instructor Lars Boesen from Klatretræ.dk says:
Sleeping in the treetops with Klatretræ.dk is and must be a total body and mind experience. Imagine waking up in the middle of the treetops, when the morning light breaks through and the birds sing, and when you as a family has broken the boundaries of what is possible, not only for the adults, but for the children as well.

Customer Opinion

Niels Enevoldsen from Risskov says "The greatest experience is waking up early in the morning. You are woken by the birds. You get birdsong from above, beside you and below you. The birdsong sound total surrounds you. That is the best."
Anita from Odense says "That is the way to sleep in Middelfart .. The wildest overnights stay of my life to date."
BE HAPPY PASS bonuses
Place your booking online and enter the booking code on the back of your BHP-card for a discount. Everyone under the age of 12 will receive a DKK 400,- discount on their ticket.