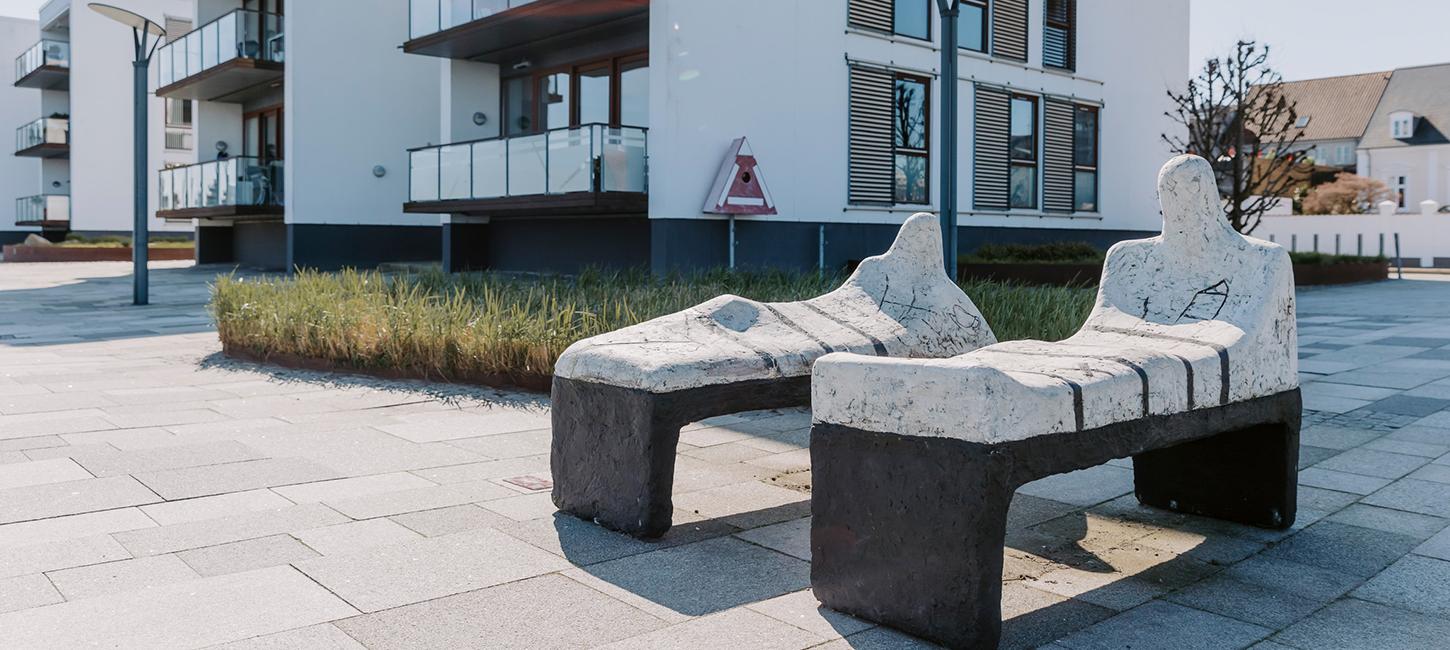 The Ceramics Trail
Ceramic art in the public space is a visual trademark that emphasises how Middelfart is a town where beauty and quality go hand in hand.
Keramikruten (The Ceramics Trail) integrates art into the urban space, making it free and accessible to all.The 2.3 km long route connects CLAY Museum of Ceramic Art Denmark, (Scandinavia's largest museum of ceramic art) with Middelfart's harbour front and town centre. You can already experience 21 ceramic sculptures as you follow the trail. Looking forward, Keramikruten will continue to develop with even more large pieces of high-quality ceramic art. Click on the route map.
Directions when following Middelfart's Keramikruten follow a system we have obviously called "clayfinding". This is a discreetly aesthetic way of guiding walkers along the route using glazed tiles and stones set into the existing paving. The tiles are in shades of blue, green and red. They were developed by architect Michael Finke and made at the Tommerup Keramiske Værksted.
Ceramics - Art - Climate
Click on the photo for a map and description of the climate route.
Little Belt Clay
The term "ceramic" is used to describe something that is made of clay that has been shaped and fired. Clay and water both occupy a special role in Middelfart. This has both positive and negative aspects. The particularly plastic type of "Little Belt clay" that is found underground in the Middelfart area has posed a challenge to the town's growth. It meant that innovative construction methods had to be developed and deployed during the construction of the Little Belt bridges and the extension to the CLAY Museum of Ceramic Art Denmark.
The many challenges presented by the sticky Little Belt clay have also meant that many scenic areas have remained untouched, especially along the 117 km long coastline, with its woodland, beaches and cliff sides. 
The Little Belt is an outstanding scenic location, but its waters also present their own problems. Rising sea levels due to climate change necessitate the deployment of advanced solutions. Middelfart has come up with some outstanding solutions to this issue in its development of the Klimabyen ("the Climate City") and Klimahavnen "(the Climate Harbour") projects.
A town of exhibits and creativity

Nature and the very unique light in the Little Belt and the Middelfart area have attracted ceramic artists, painters and arts and crafts practitioners for centuries. Visit our local workshops and galleries and meet the artists during their creative process.
Passion & craftsmanshipVisit our local workshops for a sense of their passion and urge to create.