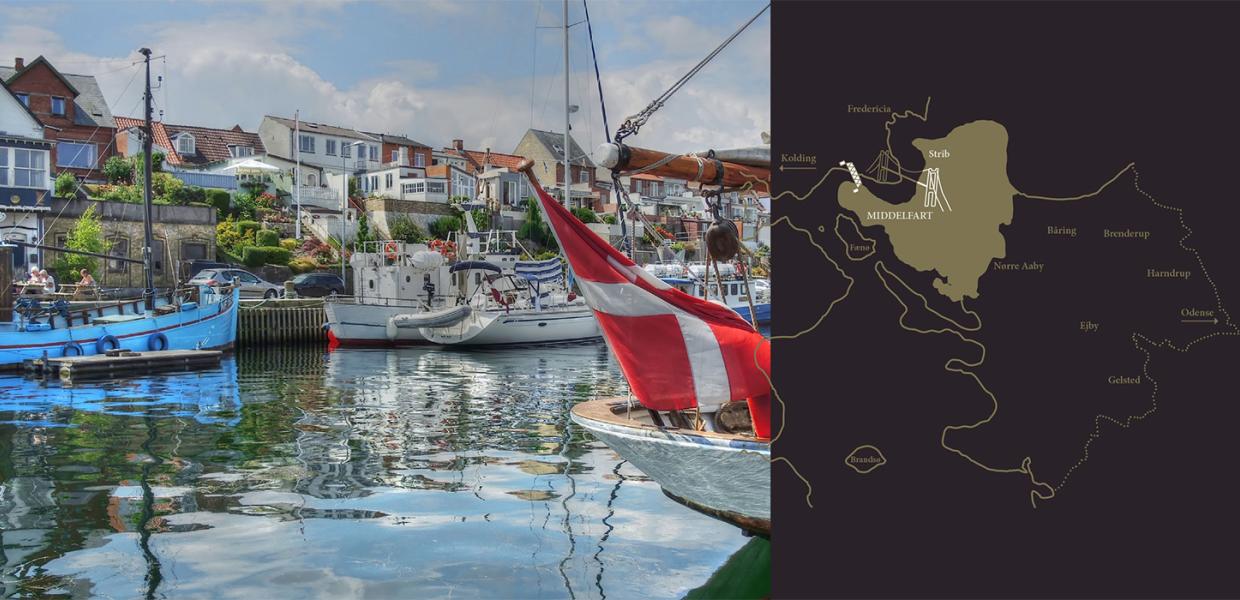 Photo:Niels Martner
Middelfart
Middelfart is a historic market town with a scenic natural location in the heart of Denmark and 117 km of coastline.
Middelfart is surrounded by Denmark's largest nature park, the Little Belt Nature Park which is home to the world's densest population of small whales. We offer numerous memorable activities and experiences. We are especially well-known for Bridgewalking, whale safaris and the Nordic region's biggest ceramics museum CLAY.
The town's shops, many galleries and places to eat can be found on the waterfront and along the small pedestrian shopping street and in the small hidden oases. Here you can experience the transformation from a historic harbour environment to a contemporary climate-friendly urban community. The scenic Hindsgavl Peninsula offers tranquillity along its slopes and beaches. All this is within a 3 km radius and walking distance.
Sustainable architecture
Middelfart's town hall is Denmark's first and only sustainable public building to achieve platinum and diamond DGNB certification. The floors are made of residual wood. The building is cooled mechanically with electricity generated by 700 m2 of solar cells on the roof. All furniture, walls and ceilings are noise-reducing. Any surplus heat is piped out as district heating for the town's houses. Food waste from the canteen is transformed into natural gas.
The town hall square, Rådhustorvet, is a new meeting place that offers town centre atmosphere, housing and activities, while the town hall itself is a house of culture with space for concerts, etc. when its employees and local politicians have gone home.
Middelfart brings past, present and future together.
Middelfart is historical and contemporary and is also taking measures to protect itself against the impact of future climate change. In days past, Middelfart was a fishing town, a working-class town and a town of craftsmen.
Denmark's cosiest market town....probably
Middelfart's narrow pedestrian street is parallel to the Little Belt.
Each side street offers views of the sea as a constantly changing backdrop. As a gesture to citizens and visitors. Along the street you will find a wealth of shops and atmospheric backyards and short cuts. All year round, the heart of the city beats to welcome visitors to a city with grand experiences and small and atmospheric moments.
Secret oases in a vibrant market town
Narrow alleys, secret oases and back yards are characteristic of Middelfart. Dive into Middelfart's secrets as you move among the many old and new buildings and sense how the town's very special atmosphere follows you around, no matter where you are.